Next up on our project spotlight: Luxury at Home. Our client's new home was not customized to their style, so we changed it! They wanted their home to feel like a upscale hotel with a cool neutral color scheme, a change from their prior home's warm scheme. Of course, we had to add in some personal touches, so throughout this home there are photos taken by our clients on their travels all around the world!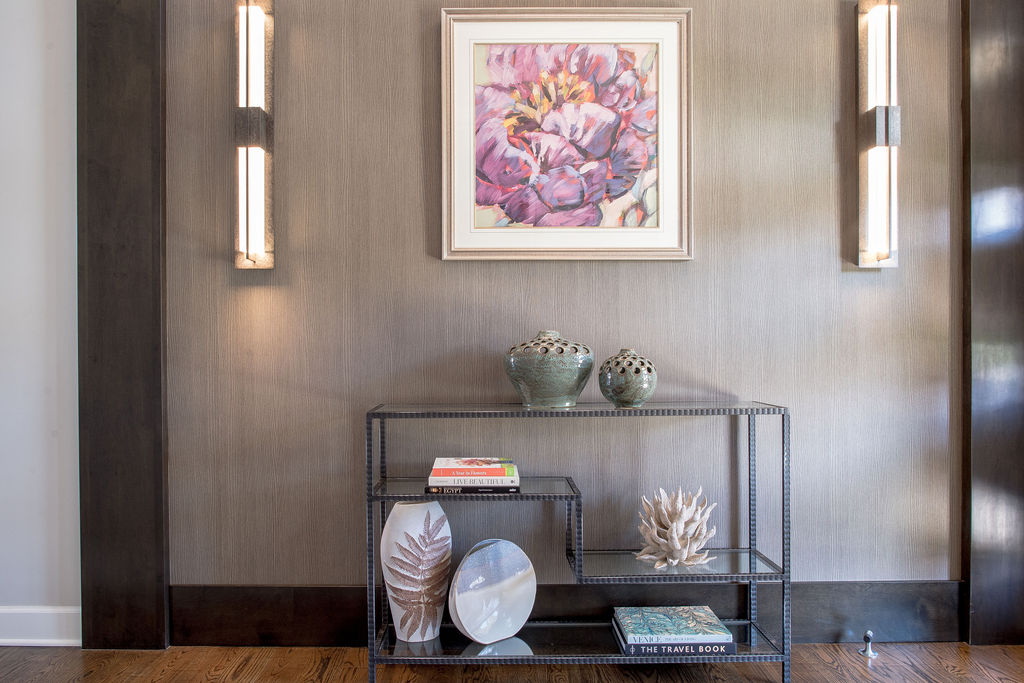 We chose to keep the entryway wood paneling & lighting, but added a custom runner and an entryway table with accessories that pull the theme from the rest of the home. We loved the idea of the dining room wall being a statement with the mirrors, so we installed a natural wallpaper to bring in some modern texture. A favorite touch of ours was reupholstering the existing dining chairs with a modern geometric fabric. The modern design breathed new life into the beautifully detailed family pieces.
What a drastic difference a backsplash can make! We replaced the orange and yellow hued tile with a triangle pattern in a chameleon color that seems to change from blue to green to gray depending on the light. This enhanced the existing cabinets, appliances, and hardware in the kitchen.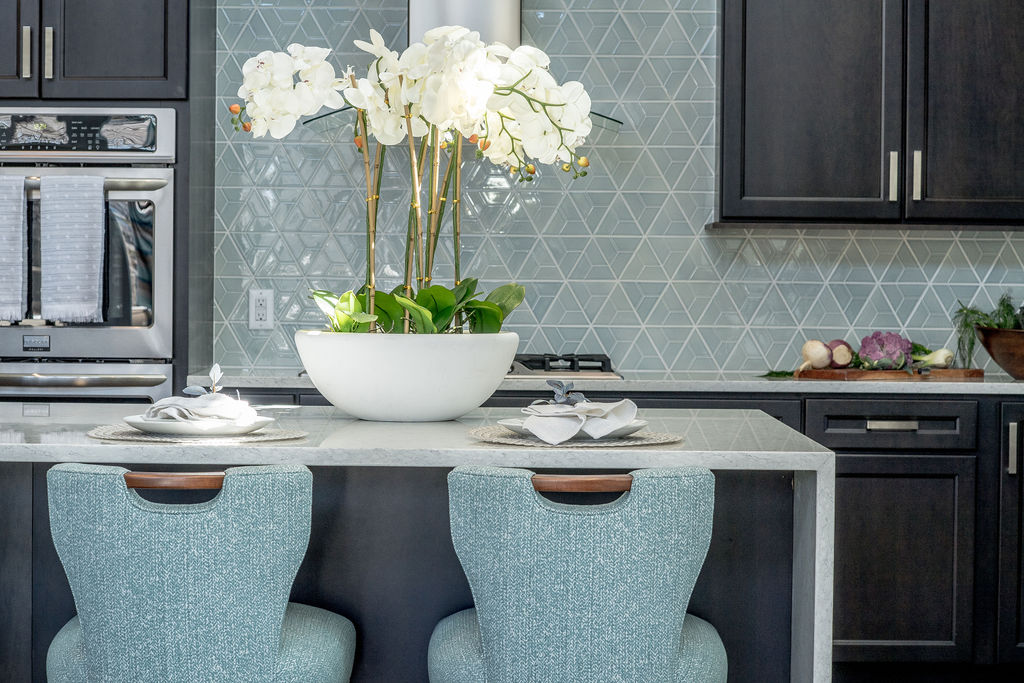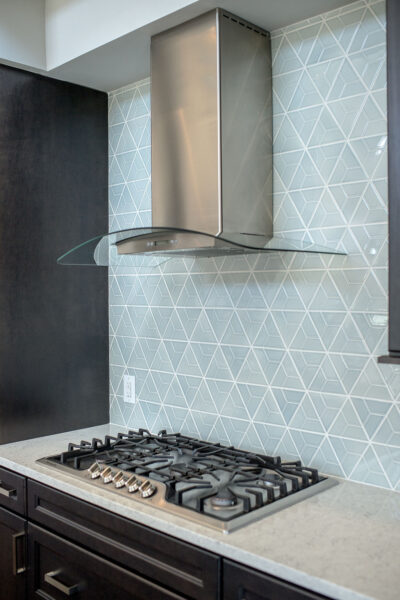 This mirrored table fit perfectly in the breakfast nook and carried the cool modern feel to this area.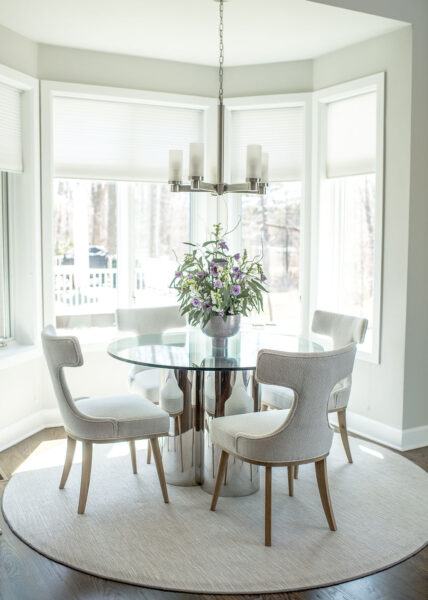 The living area was refreshed with neutral furniture that we had upholstered in comfortable fabrics. Motorized drapery in custom chosen fabrics were hung to make it easy for the natural light to come pouring in & highlight the space.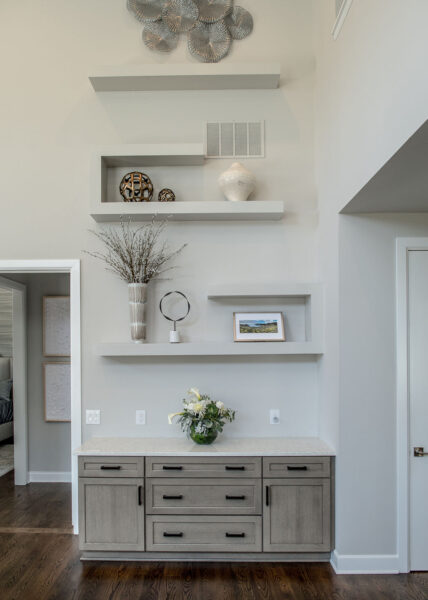 The master bedroom previously had a heavy suede wall treatment that we replaced with a patterned paper and textured drapery. We extended the hardwood floors into this room and kept it cozy with an area rug.  The light fixture was swapped out in favor of a sleek ceiling fan. We added a simple swivel chair for enjoying the view out the sliding glass doors. We couldn't forget coordinating dressers and nightstands for storage!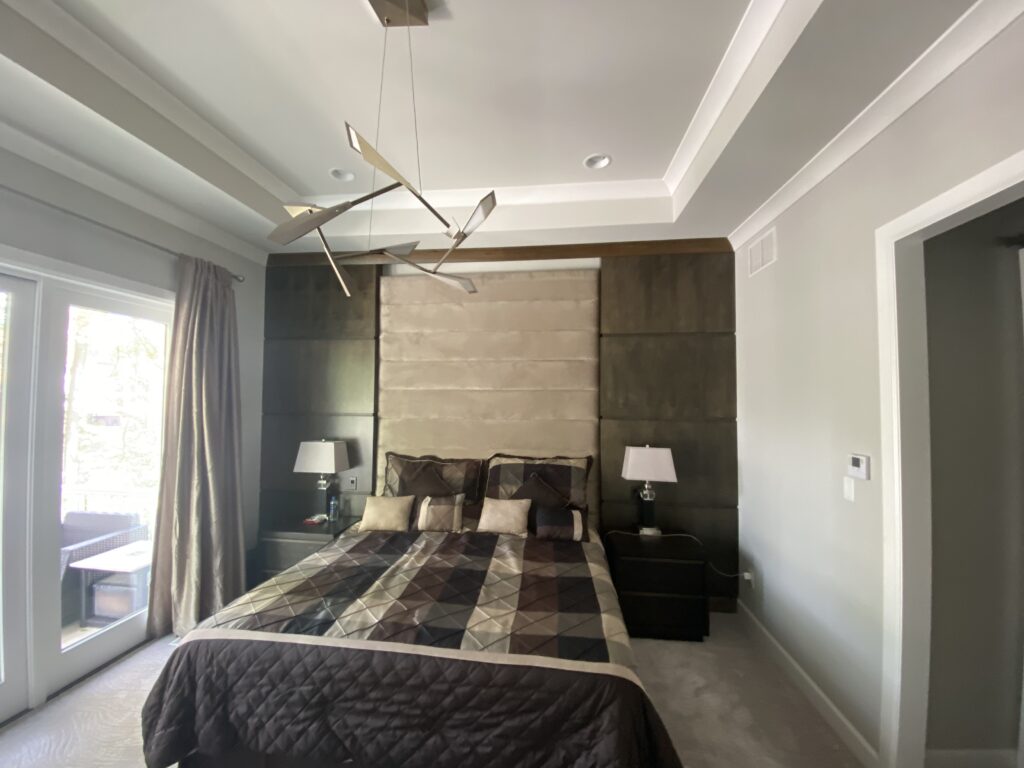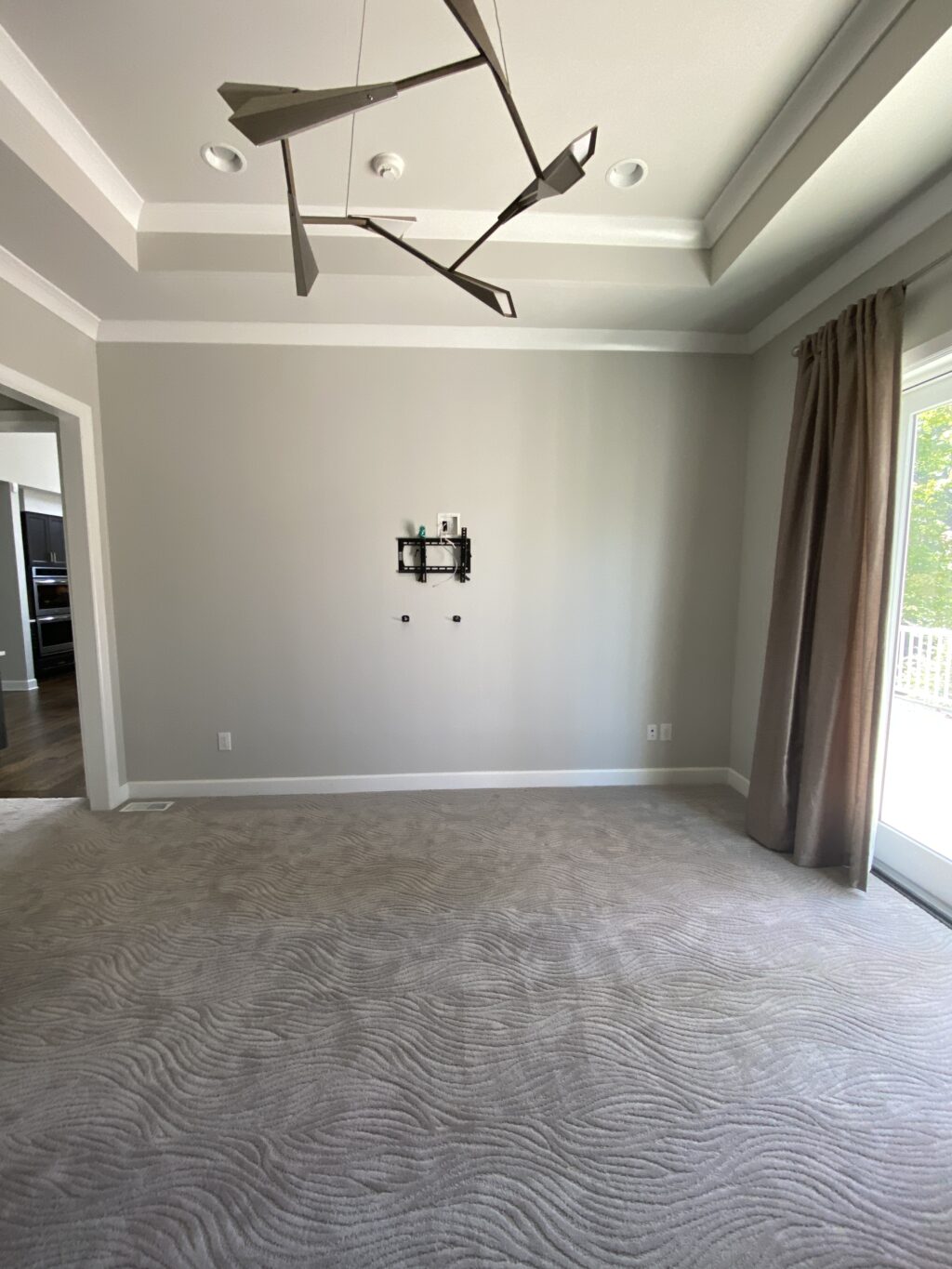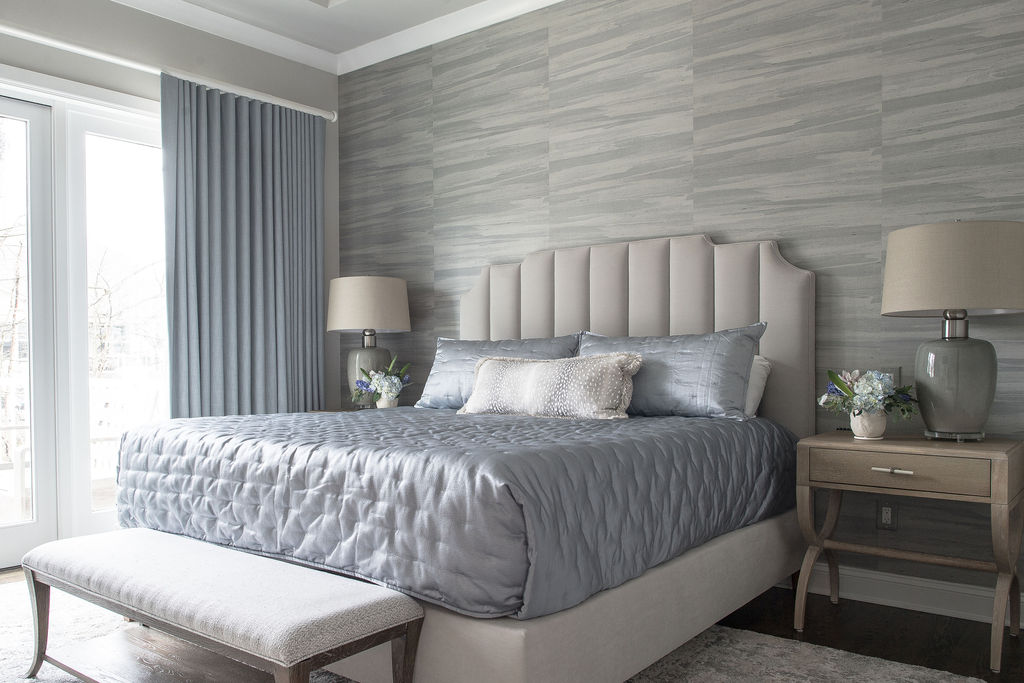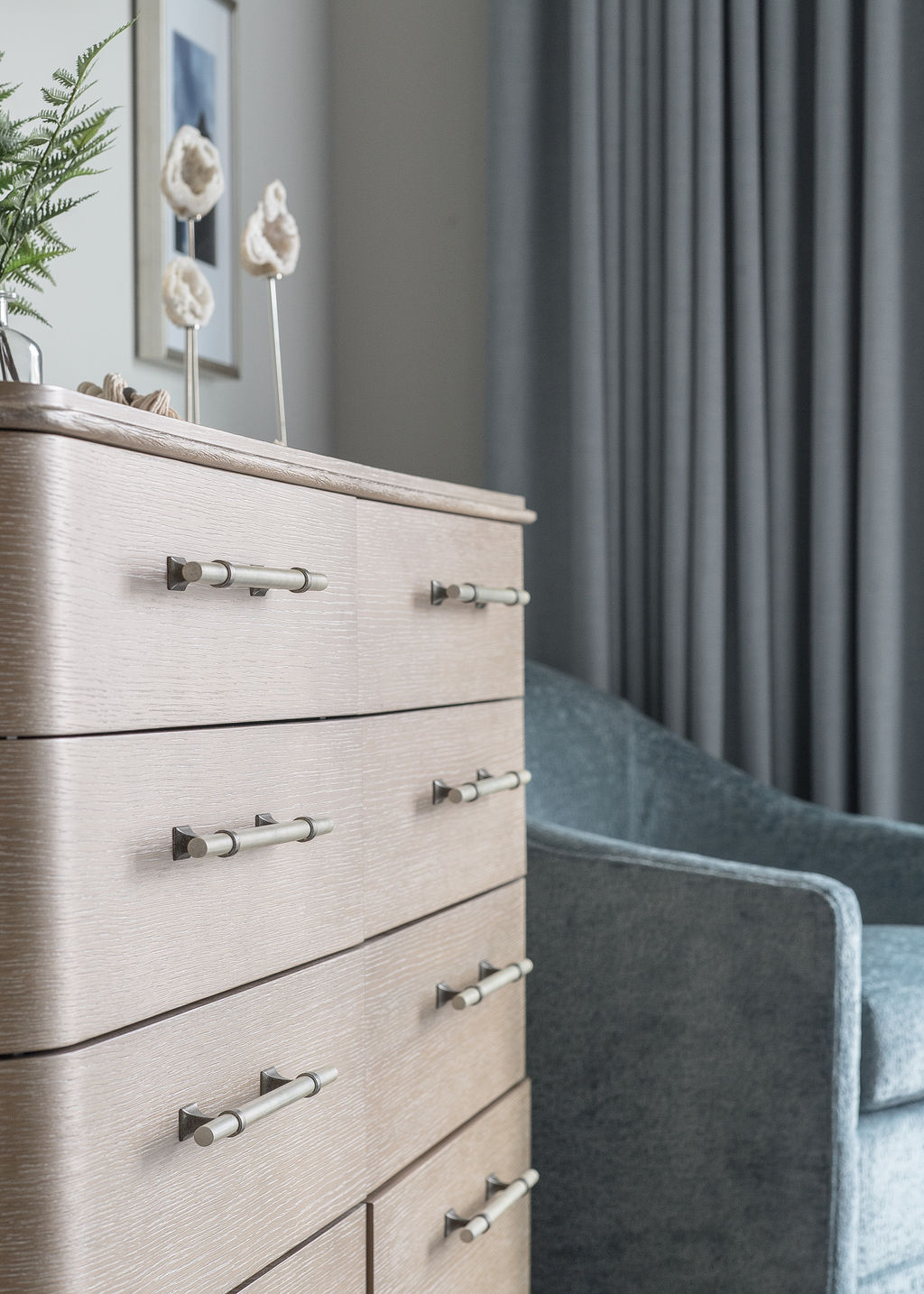 We are so thrilled to add this refreshing project to our portfolio. It shows that you can completely transform a house into a home with a different style even while keeping some of the existing finishes like paint, and flooring!
"We believe every person has a story, and our job is to tell our clients' story through their home's interiors."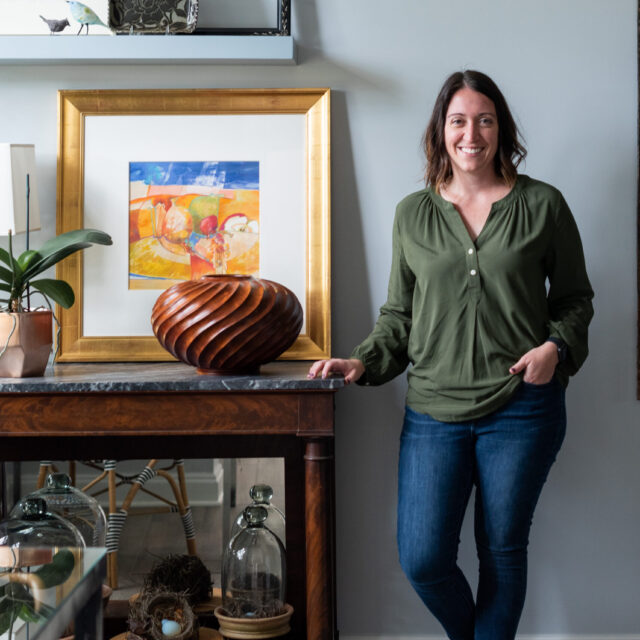 Project Lead Designer: Katie Tumino
Thanks for following along!