Here at Reflections, our team of talented women love a good window treatment. It's an opportunity to infuse the room with style & function. All windows are different, so our solutions have to be individual & specific to each window. Which means – sometimes one room will have multiple window treatment styles used (more on this later)!
Often the idea of "dressing up your windows" can feel daunting. Do I do panels or shades or sheers or a combination of a few items? What style is "in" and more importantly, what style is the right fit for my home?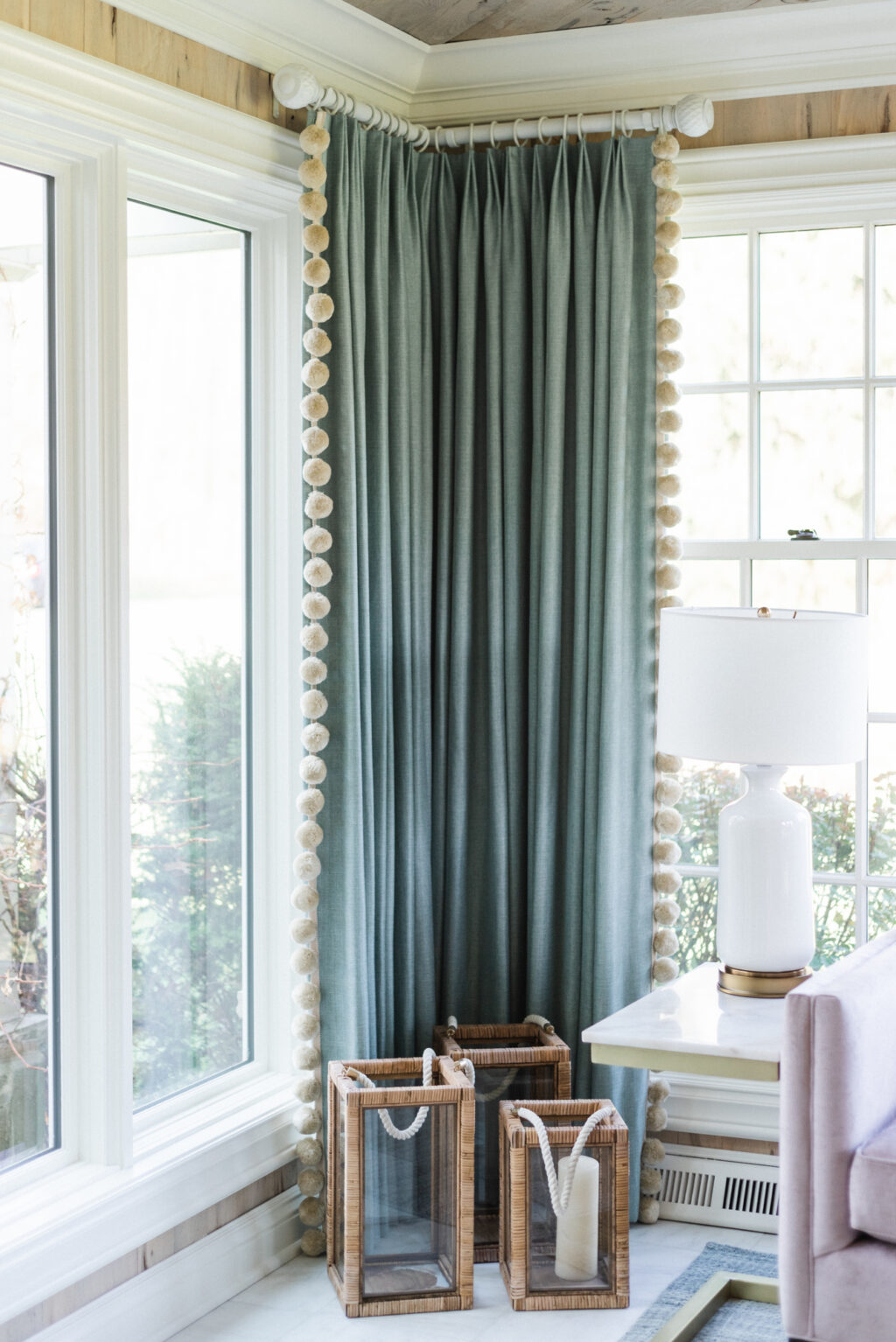 Top Pleat Heading- a Favorite for Bedrooms & Living Rooms!
How to begin?
We always start with curiosity! Walt Disney captured it well –
"There's really no secret about our approach. We keep moving forward—opening up new doors and doing new things—because we're curious. And curiosity keeps leading us down new paths. We're always exploring and experimenting. At WED, we call it Imagineering—the blending of creative imagination with technical know-how."
Similarly, as interior designers, we're continually using our technical know-how & infusing it with creativity. How we approach window treatments is no exception as there isn't a one size fits all solution for windows.  After each window is considered, by asking questions and learning about the space, we are then able to provide a creative design solution!
Some questions we like to start with:
What type of room is this?
Are there any architectural elements to consider? (for example – a radiator under the window, low ceilings, beautiful woodwork we don't want to cover, etc.)
What activities take place in here?  (for example – sleeping, working, TV watching, etc.)
Who uses the room? (are there kids or pets? If so – safety needs to be a high priority & we are mindful of cords & ensure their placement is out of reach of little ones).
What kind of privacy do I need in here? Do I need the treatment to block some or all light?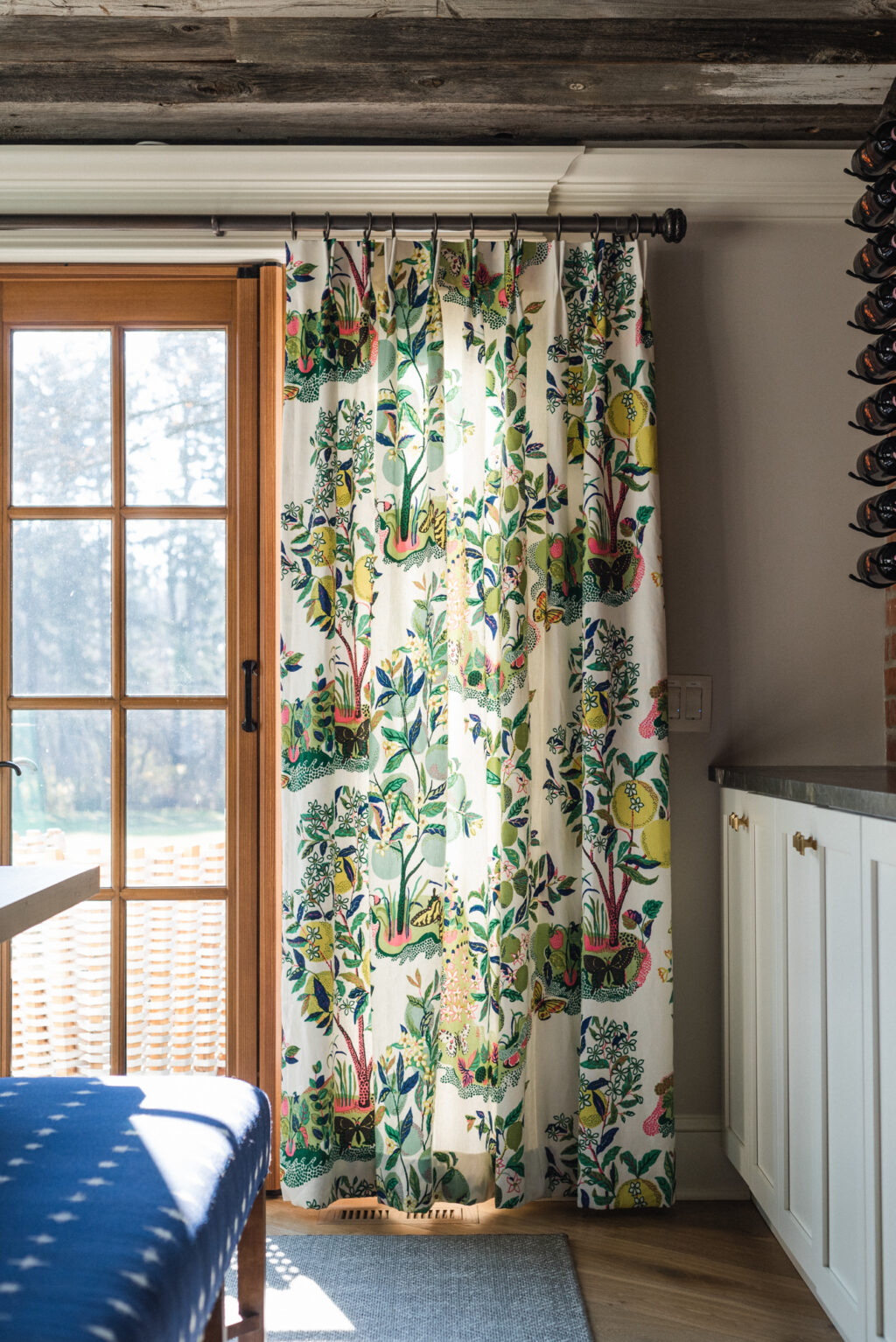 Pinch Pleat Heading - a Classic Style & One of Our Go-to's!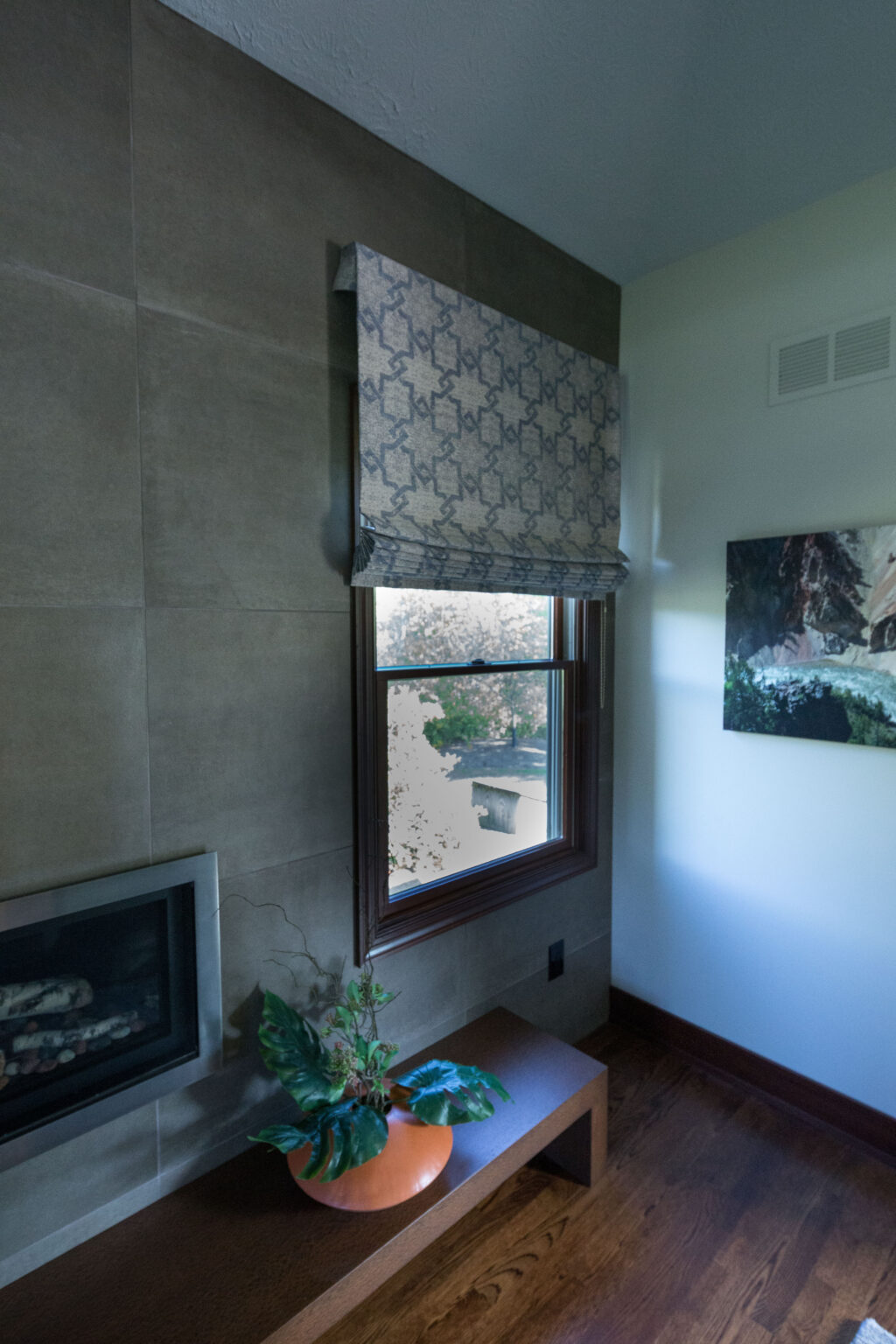 Flat Roman Shade - Versatile & Classic - Use in Bathrooms, Kitchens, Living Rooms - anywhere!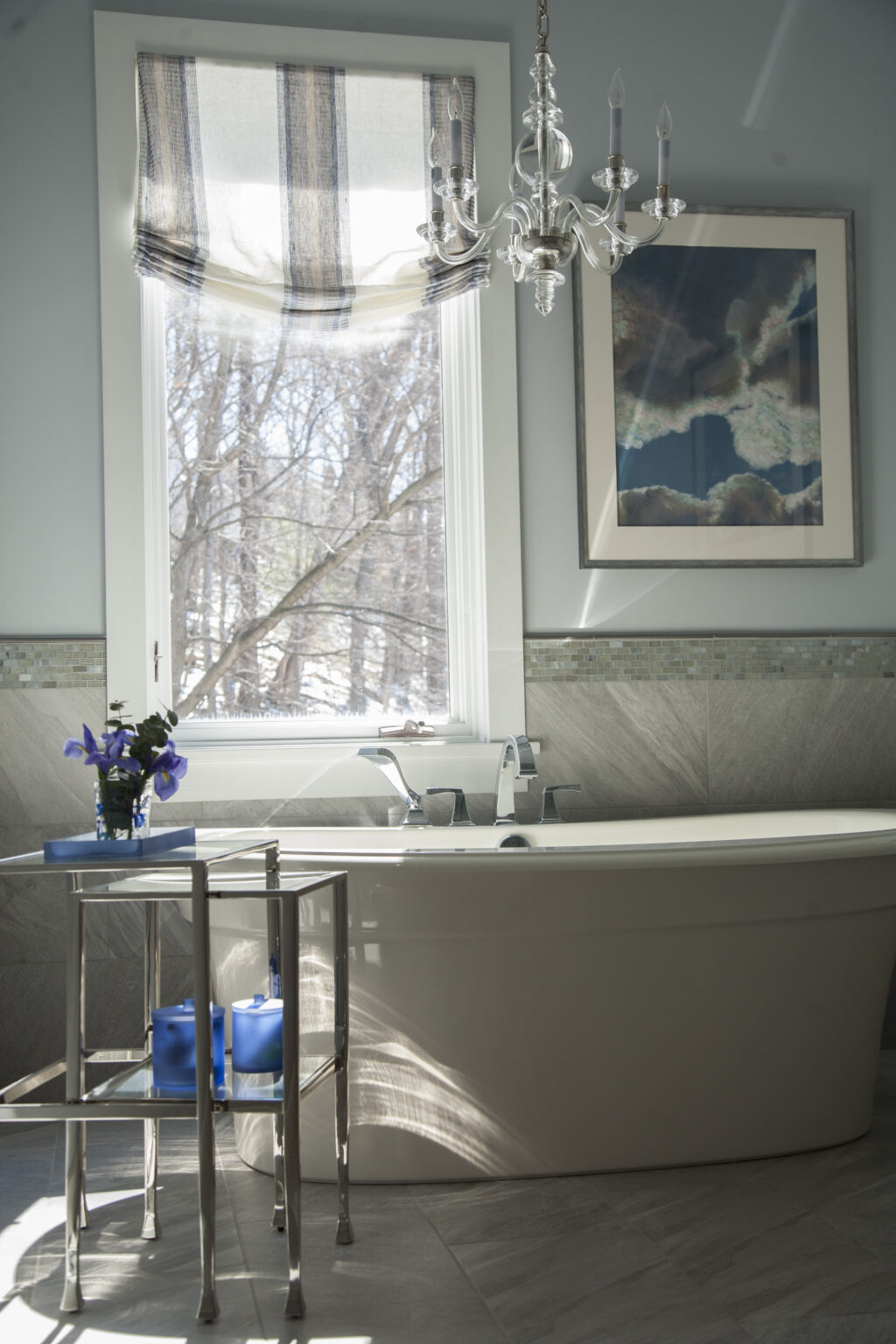 Relaxed Roman Shade - A great way to add softness to a bathroom!
Rules to break!
Often when it comes to design many people live in fear that they're breaking some cardinal design rule with a choice they make. While we'd be the first to tell you there ARE definite "guidelines" you want to follow to have a successful design outcome, there really aren't any universal rules! It's your home so how you live & utilize the space is the biggest guiding principal for us. So what guidelines do we follow & what rules do we break?
We alluded to this one above – don't combine drapery styles in a room – pick a style & stick to it.  Not true!  We combine two different treatments all the time! Like in the image below – panels on the large window made sense, while roman shades were a better option for the side wall. Using the same fabric ensured they still felt cohesive! Additionally – this space had a radiator under the window – so there is a motorized shade behind the valance that raises & lowers. Three solutions in one room!
You have to match your exact window size.  False!  Mounting the drapery rod higher & wider than the window trim gives the illusion of a taller & larger window. Mounting closer to the ceiling with drapery panels means your eye is drawn up & doesn't just stop at the top of the window- creating a visual flow through the space.
Combination of Styles: Drapery Panels and Valance mixed with Inside Mounted Roman Shade
Helpful Hints:
If you're deciding between inside & outside mount – think about showing off the window trim! Also be mindful of how the window operates & makes sure the shade will clear the window hardware when opening/closing.
Think of your hardware as the jewelry of the window & don't be afraid to mix finishes!
For a fun addition on simple panels – add a trim band!
Remember – not all windows need dressing! Sometimes leaving the view open is more important & the appropriate choice in a space.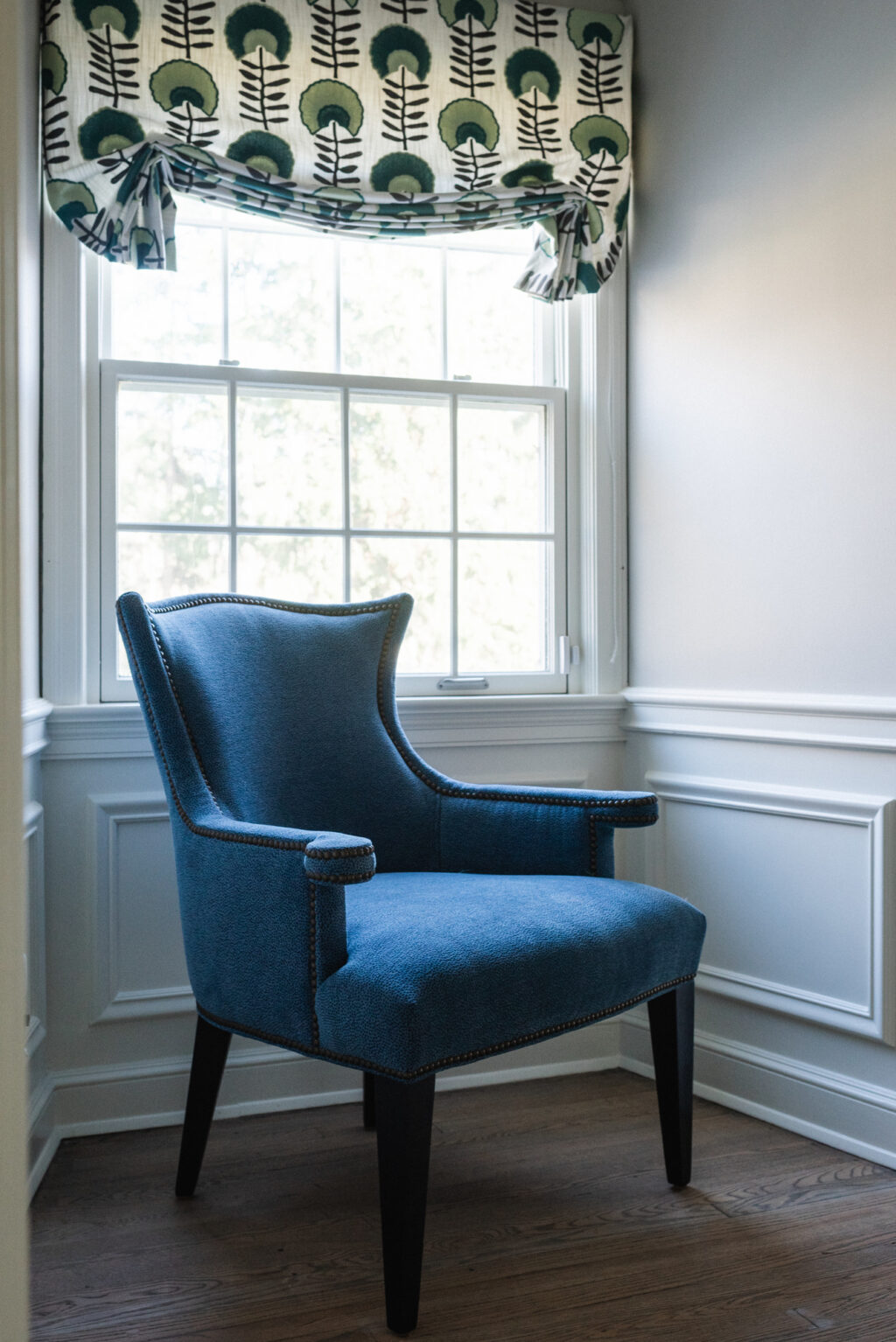 Relaxed Roman Shade with Corner Tucks - Fun Detail Added to the Classic Relaxed Roman!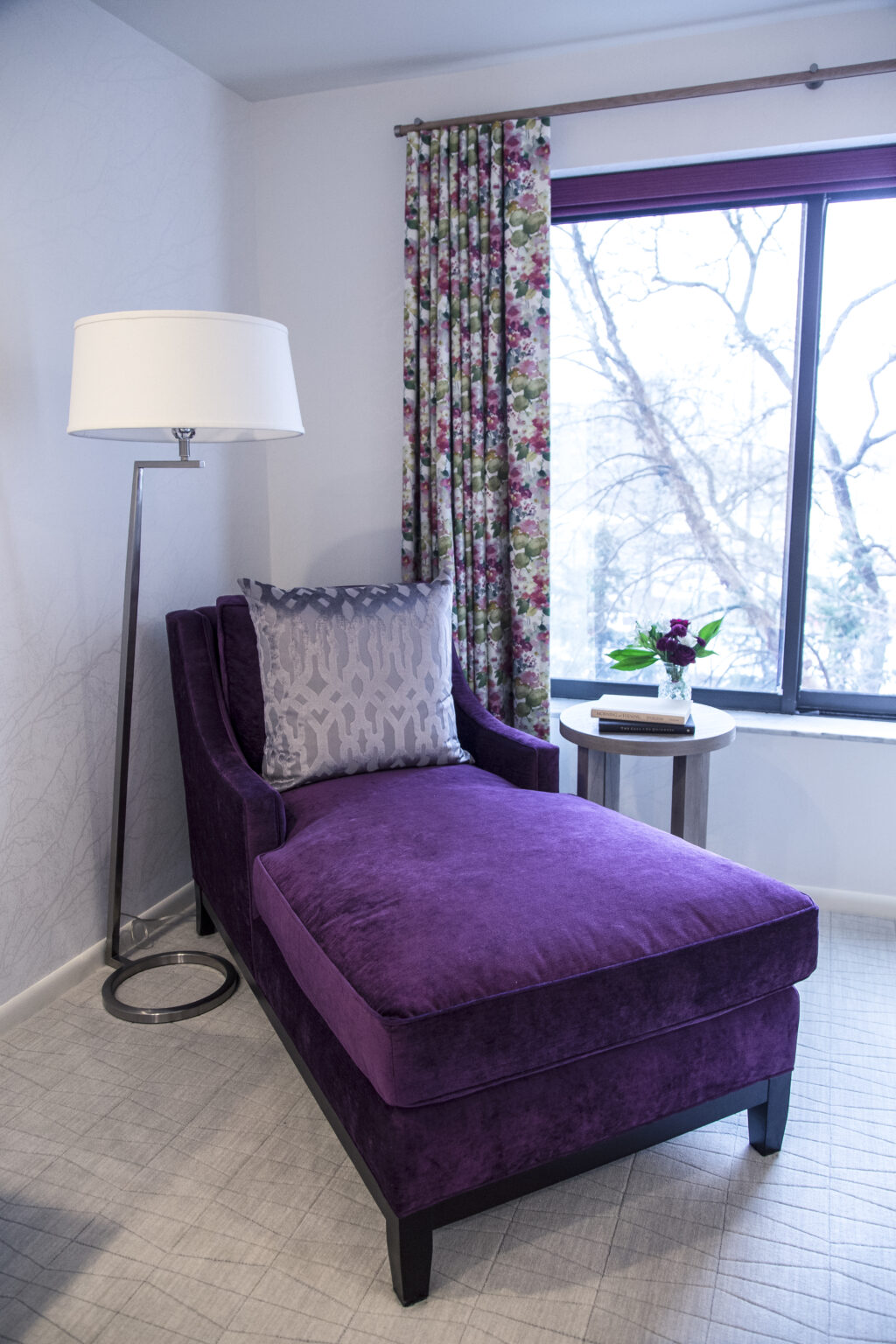 Stationary Panels & Inside Mounted Blinds - A perfect way to add privacy!
There's a lot to consider when it comes to window treatments and we'd love to help you create the perfect solutions for your space!
Thanks for following along!